Anyone can write a poem, but,
To call oneself a poet is another thing.
To be a poet calls for gift:
Humdrum persistence,
(Some would call it patience)
Mulling over, musing on; but with distance.
Facets focusing upon all faces:
Places, spaces, graces…
And their antonyms; the oxymorons.
If anyone can write a poem, write one!
If you like it, write another.
You and I are everyman: unsung, unclear.
Become a thinker, sluice and duct;
Avenue for inner construct.
Everything has drama: kitty's purr,
Dying fir, cowboy's spur…
The insignificant betrays a stir
That sits within a coma.
All is magma in the planet's inner.
You, the [unknown] poet winner.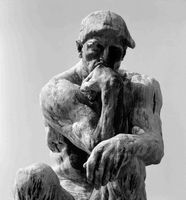 Le Penseur (The Thinker) -- Auguste Rodin