Autumn Sestina
Clouds obscure the autumn skies.
The dry leaves drift across the lawn.
Where the breeze pushes them they drift
In shifting mounds like desert dunes
Dancing. I crunch them under foot,
Powdering the corpses of summer.
I grieve the passing away of summer
With its blue unclouded skies.
I scuffle the powder with my foot,
Drawing arcane sigils on the lawn.
I wish I rode the restless dunes
Like a Berber. If I could drift
Unfettered as the leaves can drift
Perhaps I'd forget the suns of summer
And the lure dangled by the drifting dunes
Under the desert's rainless skies.
The green grass yellows in the lawn;
Dry weeds tangle round my foot.
I stoop to unwind their stems from my foot.
I watch the fog patterns drift
Above the dying autumn lawn.
I shed an inner tear for summer
With brassy suns in azure skies.
Above the hot air dancing on the dunes.
I'm no Arab sheik. My dunes
Crumble under my heavy foot
And no sun burns in azure skies
Where autumn leaves shift and drift
Away from trees that shaded summer
And kept the green fresh in the lawn.
The autumn leaves upon my lawn
Shift and shape new piles of dunes
Untouched by dying summer.
I shake leaf-powder from my foot
And give it to the wind to drift
Under the grey autumn skies
Above my lawn. I dream my foot
Walks the dunes under clouds that drift
Where summer blue fades from the skies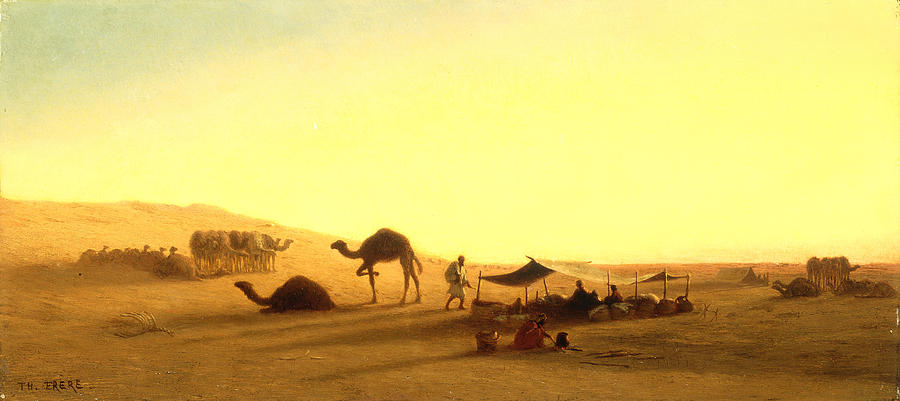 An Arab Encampment -- Charles Theodore Frere