Remembrance Twenty-Two
The hollow gurgle of summer streams
Murmurs in my ears. The clouds
Above drift with the grace of dreams
Through skies painted brass and blue
By the summer sun. She is not here,
The last of my generation. Where
She spends her days I do not know.
Last April brought a cruel spring.
It bred no lilacs from cold ground
But death with sharpened scythe came round
And forestalled all my bothering
To provide for her when my time came.
She died untimely, much too young
She had more harmonies to sing
She had more future scenes to dream
But all that planned retirement went
Away in scattered tendrils of smoke,
Wisps that drifted until they broke
And all their dreaming power was spent.
I hear the silence reverberate
With echoed memories of her
Reciting reasons she would share
For sacrificing all for her cat.
The silence has become my friend,
A bulwark against the emptiness
I wallow in. My days are less
Each sunrise marks the approach of my end.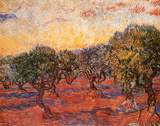 The Olive Grove --Vincent van Gogh