Chicory blooms blue
against the sun-bleached lawn. Drought
makes these flowers fierce.
As the YouTube video of Janis Joplin and the typewriter streams from the laptop, Callie imagines that someone's girlfriend sits with her hands poised over the keyboard of her graduation present. A man operates the tape recorder. Another man plays guitar. No one's girlfriend, Janis sings "Trouble in Mind." Her voice doesn't yet burn and scorch. Neither does her laughter.
This picture is too simple. Too simple.
At the very least, Janis might have been playing, too. Callie sees the picture of her with a guitar. Not yet charred in the flame of California sunshine and heroin, Janis sings about going down to the Texas river that winds through humidity and past plants you don't find out west. Perhaps a young man was typing. Men typed in the military back then. Callie pictures Radar O'Reilly, glasses and all, typing nonsense while Janis sang about how blue she was. Now is the time for all good men to come to the aid of our party. The quick brown fox jumps over the lazy dog while young Janis sings.
Birds seeking water
in gutters find only
last year's maple leaves.
[a haibun that I wrote after Angelee Deodhar died]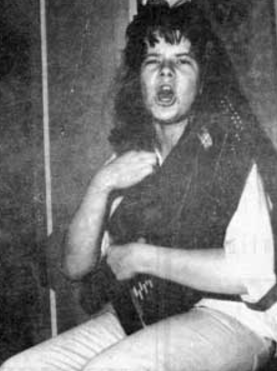 Janis Joplin in the early 1960s