Devil Teresa and other metal bands on Pope Francis' iPod
Brock Turner Rapist Overdrive starts the day
off with frat rock he remembers from the warm leather
seats of his dad's clunker Caddy.
Memories of his father and his Old Spice neck
bring him closer to God the way a warm beer
might loosen panty elastic in a dorm room.
But Pope Francis knows rape is a sin
to be forgiven, much like daddy's nights
in the backseat of that Cadillac
with the ghost of Marilyn Monroe
and a bottle of Tanqueray,
or the nights he stumbled
with nothing but that ghost on
To loosen his sermon tongue,
Francis jams to Sinderella,
cymbal crashes a wash of noise
that leave his mind faded
like a seashell the tide absconds
onto slick stone-edged whispers
of a secluded cave humans have yet to find,
he marvels at the simple truths
found in quatrain rhymes,
the existentialism of gratitude
gone unacknowledged until too late,
a refugee staring at the vanishing coast of home.
Before the Lord's Prayer, he leaves
his earbuds in to drown out the choir,
listening to Jesus Please Us,
a guilty pleasure he allows himself
when listening to confessions of Cardinals
and their latest digital probings,
he knows this is all part of his suffering,
just as it's the plight of the poor
to starve, to grind their convulsive teeth,
to wallow in filth and fever dreams
without the benefits of morphine.
O suffering. O beautiful Death and deliverer.
O to be welcomed into such loving arms.
Devil Teresa before bedtime,
after the chalices have been shined
and the rings kissed and put away,
after the silk robes have been hung by the door,
he sings the words of the saints
and the saints yet to be,
the squealing guitar riffs of godliness
that put his fists in the air,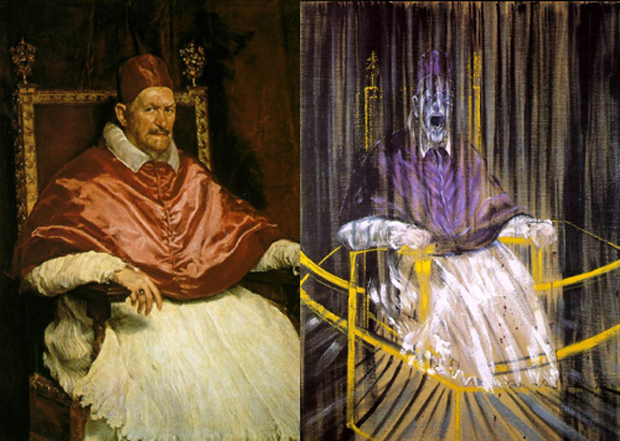 Pope Innocent X -- Diego Rodríguez de Silva y Velázquez / Study after Velazquez -- Francis Bacon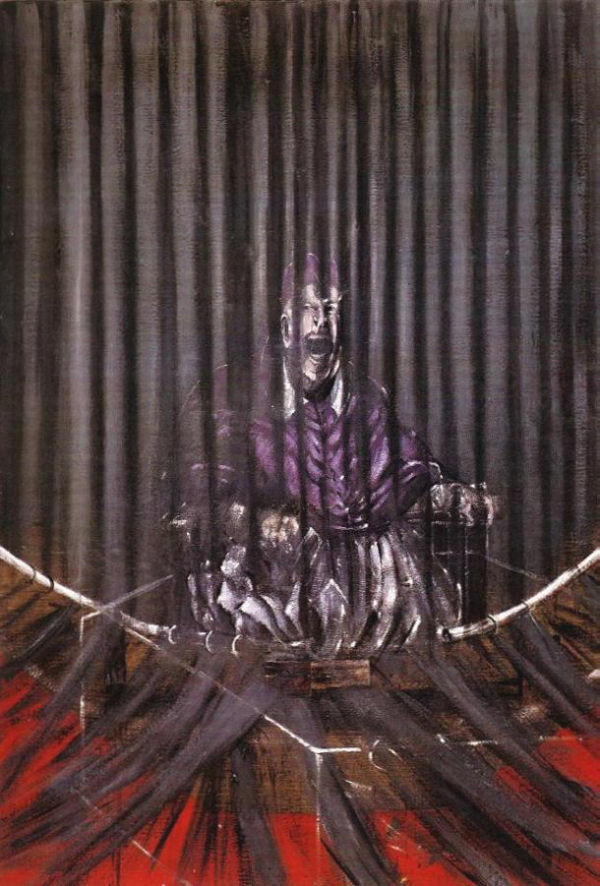 Study after Velazquez -- Francis Bacon
Study after Velazquez -- Francis Bacon